http://www.bloomberg.com/news/articles/2016-05-07/a-guide-to-saudi-arabia-s-plan-to-reorganize-its-government
Oil minister, central bank head replaced in significant shift

Changes in line with `Saudi Vision 2030' announced in April
Saudi Arabia's King Salman issued more than 50 royal decrees on Saturday reorganizing the government of the world's largest oil exporter. In a statement published by the official Saudi Press Agency, the royal court said the changes were consistent with "
Saudi Vision 2030
," the kingdom's blueprint for the post-oil era, which was announced in April. The shifts will "focus and clarify responsibilities, and ease procedures to offer better services," the royal court said.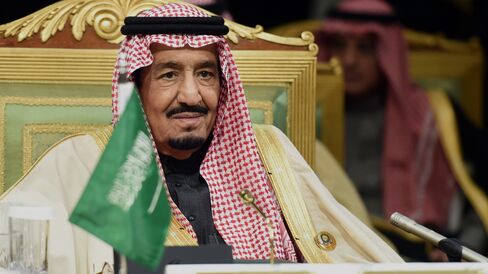 Here's a summary of the biggest changes:
Oil Ministry
* Ali Al-Naimi was
replaced
as oil minister, a post he held since 1995, and named an adviser to the royal court with the rank of minister.
* The oil ministry was renamed the Ministry of Energy, Industry and Mineral Resources, and Khalid Al-Falih, chairman of Saudi Arabian Oil Co., was appointed its minister. Al-Falih had previously served as health minister.
* The water and electricity ministry was abolished and its responsibilities split. The energy ministry will now oversee activities related to electricity.
Central Bank
* Saudi Arabia's top central banker, Monetary Agency Governor Fahad Al Mubarak, was
replaced
by Ahmed Alkholifey, formerly a deputy governor at the agency.
Cabinet Reshuffle
* The commerce and industry ministry was renamed the Ministry of Commerce and Investment, and Majed Al-Qasabi, formerly social affairs minister, was named its head.
* Tawfiq Al-Rabiah, formerly commerce and industry minister, was named health minister, replacing Al-Falih.
* Sulaiman Al-Hamdan was appointed transport minister, replacing Abdullah Al-Muqbel.
* The labor and social affairs ministries were merged into a new entity, the Ministry of Labor and Social Development.
* The agriculture ministry was renamed the Ministry of Environment, Water and Agriculture.
* The hajj ministry was renamed the Ministry of Hajj and Umrah, and Mohammed Saleh bin Taher Bentin was named minister, replacing Bandar bin Mohammed bin Hamza Hajjar.
Other Changes

* The Department of Zakat and Income Tax was renamed the General Authority for Zakat and Income, and was linked to the finance ministry.
* A General Authority for Entertainment and a General Authority for Culture will be established.
* Several new royal advisers were appointed.